| | | | | |
| --- | --- | --- | --- | --- |
| Tournament | Team | Us | Them | Opponent |
| Cash Cow | Golden Corral | 20 | *5 | Team Oakley, OH |
| Johnson City, TN | Golden Corral | 16* | 29 | GEM/CJs Lumber, NC |
| | Golden Corral | 14* | 27 | Terry's, NC |
| 4-3 | Golden Corral | 28 | 27 | GEM/CJs Lumber, NC |
| 4th place | Golden Corral | 25 | 17 | RTC/Hardball, TN |
| | Golden Corral | 27 | 15* | J. Culver, MD |
| | Golden Corral | 17 | 20 | Shockers |
| | Averages | 21.0 | 20.0 | *shortened game/run-ruled |
Golden Corral/Easton Softball traveled to Johnson City , TN this past weekend to get its first taste of the newly formed Worldwide Softball Association. GC opened the pool play bracket versus Team Oakley/Easton from Dayton , Ohio . The first twelve players who went to the plate for Golden Corral scored, and Oakley could not answer, as the team cruised to a 20-5 win. Next up, GC met a familiar foe in the always powerful GEM/CJs/Mizuno from North Carolina . This started out as most do versus this team…a very close, tough battle.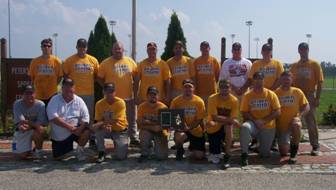 But after a couple strange turns of event, GC's 15-12 lead after three complete went by the wayside and GEM/CJs rolled away for a 29-16 win. This placed The Corral against Terry's, NC in the opener of the double elimination tournament. Terry's lived up to its powerful reputation by ripping the ball all over the field. GC hit the ball well early but did not continue to hit with Terry's, and that will not get it done. Terry's, NC pulled away and won 26-14. Facing an uphill battle that began at 8:00 A.M. Sunday morning, GC, again, met GEM/CJs. Another outstanding game ensued with the score going back and forth until a spectacular double play sealed a 28-27 win for Golden Corral. GC stayed on the field and faced another strong team in RTC/Hardball from Chattanooga , TN. RTC rolled out a 10-run first inning, but GC kept it close with 6 of its own. Then, using a 13-run third, The Corral pulled away to win it 25-17. The next game found GC facing the always potent J. Culver from Maryland . After J. Culver jumped out to a quick lead, GC put some timely hitting together and rolled to a 27-15 win. After a long Sunday, the team moved on to meet A&S Shockers in the third place game. After scoring early on, GC seemed to run out gas and failed to score enough in the late innings, while A&S mustered just enough to hold to a 20-17 win. The upper bracket in this tournament was loaded with powerful A, B, and C teams from several states. Golden Corral/Easton Softball looks forward to playing more strong competition like this as the season moves along and looks to get nothing but stronger as the season progresses.