Golden Corral / EASTON traveled to Petersburg , VA , this weekend for the USSSA State Championship. Coming in as the number one seed in the state, GC opened with a second round game against a strong DWA/EASTON team from Salem/Roanoke, VA. DWA came out hitting the ball well in the early going, but they could not withstand the Golden Corral comeback and faded in the late innings. GC wins it 19-14 to move on to the next game versus a red hot Twin States team who had rolled through its first two opponents. The Corral started in on them early, however, with a 9-run first inning and never let up. Twin States never could seem to get it going and fell behind too far too early.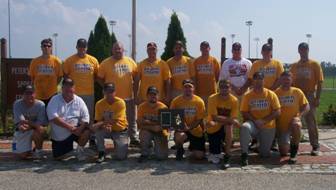 GC takes it 32-11. That win put Golden Corral into the undefeated game Saturday against JL Smith Hauling/4U Floors. Having battled this team on more than one occasion in recent weeks, Golden Corral knew what JL could do. JL Smith put up 4 in the top of the first and were looking to get the upper hand early on when GC made two quick outs in the bottom of the first, only to catch fire and drop 14 runs on them, all with 2 outs. As expected, JL Smith came roaring back and GC almost let it slip away by not continuing to hit. The Corral did hold on for the 18-16 win, however, and got to sleep in the next morning. On Sunday morning, VFW 632, Dinwiddie Eagles, and JL Smith Hauling/4U Floors battled it out to see who would face Golden Corral in the finals. JL Smith prevailed over Dinwiddie in a wild, extra-inning game and came out gunning for The Corral. JL/4U scored early and often to take the lead, and when GC's bats went silent in the late innings, JL took the game, 15-14 to force the "if" game. Golden Corral would not be denied on this day, however. The Corral stormed out of the gate and never looked back. JL/4U could not match the runs, and GC pulled away and cruised to a 21-11 victory and the USSSA State Championship.
Golden Corral would like to thank Jeff Cox of Golden Corral, South Boston, VA for sponsorship and Rich Carlyle for putting on a nice tournament. The entire field was strong this weekend, and all of the teams seemed to play with great sportsmanship.