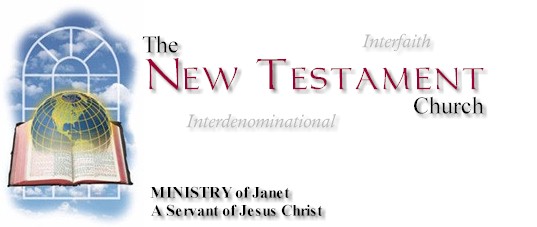 THE ENCOURAGING WORD
Janet J. Lockhart, founder and pastor of The New Testament Church, founder and instructor of Jackson Memorial Bible School and Radio Ministry for 15 years.
She was commissioned by the Lord Jesus Christ to "Go and be a witness for Him." (Acts 1:8)
After sharing the good news with family, friends, neighbors and home church, she was told that "God never called women to preach." Moreover, she was ridiculed, rejected and ostracized. Ultimately, she became discouraged.
Janet asked the Lord to give scripture for her calling. She was inspired: "Before I formed you in the belly, I knew you, and before you came forth out of the womb I sanctified (made holy) you, and I ordained (set apart) you a prophet unto the nations." (Jer. 1:5) She said "Lord, a prophet is a man." Her Savior replied, "Have you never read where it is written: "There is neither male or female: for you are all one in Christ Jesus." (Gal. 3:28)
Consequently, Janet has dedicated her life to teach, to preach, to listen, to counsel, and to encourage all who are hungry and thirsty for the Word of God as ascribed in the Holy Bible.
The New Testament Church
Interdenominational - Interfaith
P.O. Box 1000
Halifax, VA 24558
Phone (804) 476-6849
Email: newtest@gcronline.com
This page created and maintained by GCR Online.
Please direct all comments to the Webmaster.