---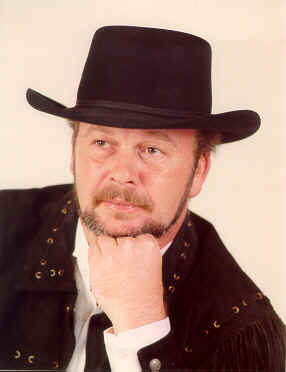 Jimmy's newest CD "Keeping It Country" has hit the airways, and is receiving airplay nationwide and in select European countries. This is his 2nd national release recorded at Imagine DAT Studios. Be sure to request a copy of his latest CD at your favorite music store. As a singer, BMI songwriter, and stage performer, Jimmy's songs have charted not only in U.S. Billboard, but also European country charts.

---
Jay Camp, Tommy Purple Hayes, Eddie Elliot, Stevie Bolinger, Tony Thomas
Often with a little help from our friends Robyn Robbins, Raymond Crawley, Jimmy Smiley, Randy Savage, Todd Watkins, Ian Robbins, and Bob Thomason.
---
I Saved Latin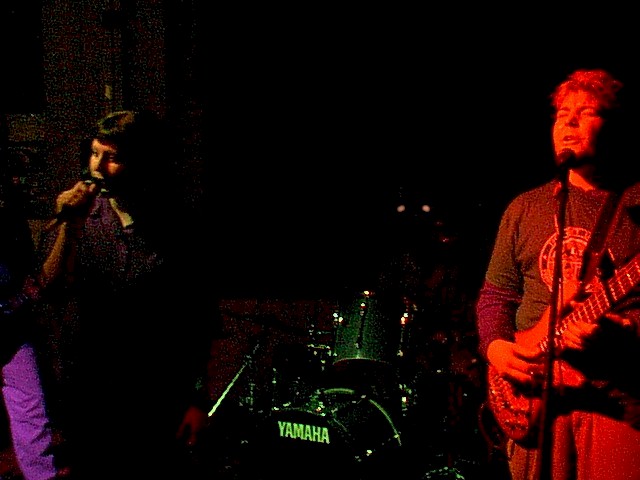 Consisting of former "Malachi Constant", "Susan", 'Latino Milkshake Riot', and 'The Mailbox Terrorists' members, I Saved Latin has recently released their 2nd CD of all original material recorded at Imagine DAT Studios and entitled 'surprisingly happy and amazingly well adjusted'. Karen Creighton - Vocals, Ian Robbins - bass and vocals, Matthew Weaver - guitar and vocals, Matt Fisher - guitar and vocals, and Marvin Jones - drums.

mp3's
Dreamscapes and Memories (2,258kb)
Goodbye Malachi (2,459kb)
New Demo - Track 1 (6,918kb)
Rewind (2,226kb)
(Film at 11)
---
Jackass Flats
Virginia Folk Music Association Bluegrass Champions in 2002
Virginia Music Award Winners:"Americana/Jamband of the Year"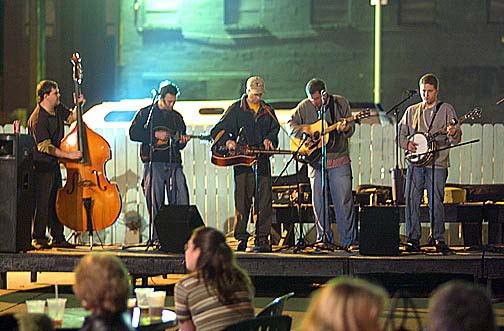 ---
Meadows and Taylor

Spanky Taylor and Watt Meadows

---
---
Robyn Robbins & Jimmy Glass
R&B, Country and Americana
---
Spot Check Willie
Ronnie Cole, Watt Meadows, Spanky Taylor, Robyn Robbins, and Ricky Cole.

---
Steve Bassett

"Steve Bassett's musical style is a synthesis of America's root music;

Blues, R&B, Gospel, and Rock & Roll. He is a singer's

singer and he communicates with his audience in a soulful front

porch manner that crosses markets and generations and leaves the

listener feeling like he has sung to them alone."

John Hammond Sr.

Steve Bassett bought his first organ in 1963 and joined The Reactions…he had one and never looked back. One night at The Wigwam during "Route 66", he was a changed man. Soul shows at the Sahara Club at home in Richmond, Virginia, gave him clarity of purpose. Three decades of roadhouse R&B ensued.

John Hammond Sr. added him to his renowned list of discovered talent and signed him to Columbia Records in 1980. The resulting album, STEVE BASSETT, produced by Jerry Wexler and Barry Beckett in Muscle Shoals, gathered four star honors from the critics and shifted Bassett's touring life from the East Coast to opening slot for Stevie Ray Vaughan across America.

Delbert McClinton has flown him in for years so he can play on the evening's show. Artists such as Latimore, Son Seals and Luke Walker record his songs. His band, "The Mystic Soul Bubbas" with Roger Hawkins and David Hood (of the legendary Muscle Shoals Rhythm Section) released a CD of their music entitled "The SOUTHLAND" and continue their collaborations in Alabama.

Bassett's vocal style delivered him into the heavens of satellite broadcast as:

"…one of the top first-call soloists in the country."

He has sung over 100 network radio and television commercials. This bailed him out of the roadhouses for a while and into his creative lean, allowing him the pleasure of making music in his favorite places with his favorite people.

1994 saw the American distribution of an album of Bassett's originals he produced with his pal Elliot Randall (guitarist for Steeley Dan and Doobie Brothers) entitled "STANDING ON THE VERGE" and a summer tour of blues festivals with Delbert McClinton.

In 1995 he produced his next album "ON A SATURDAY NIGHT" with his friend Tim Loftin. This collection of their R&B favorites was released in Europe this year.

At the end of 1996 he released his CD "I GOT AN ATTITUDE"; an album of blues material written by Bassett and Rick Darnell.

Bassett spent 1997, and 1998 touring the U.S. full time as B-3 player in Delbert McClinton's renowned R&B band.

Steve Bassett is co-author of "SWEET VIRGINIA BREEZE", with Robbin Thompson, which is currently being considered as the new state song of Virginia.

Currently Bassett continues his work from his base in Virginia. At his studio, located at WPAK 1490AM in Farmville, Virginia, he collaborates with his partner Rick Darnell – author of the blues classic "THE THRILL IS GONE" recorded and made famous by B.B. King . They are in production now on his next release, an album of gospel material written by Darnell and Bassett.

John Hammond Sr. told Bassett to stick to what he did most honestly. He did that. Bassett is real good at that. He's still playing his Hammond B-3…..and he's still not looking back!

"My career carries me wherever it needs to go….

In between time – I make more music." S.B.

Steve's newest CD is out now entitled "Party In A Box", and features Delbert , Jim Horn, The Memphis Horns, Joe McGlohen, the Muscle Shoal Rhythm Section (Roger Hawkins and David Hood), and other great R&B musicians. Contact your favorite music center and request one today!
---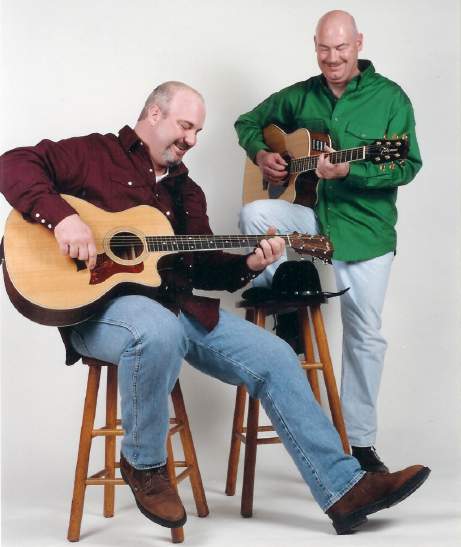 The Brown Brothers are currently performing in Virginia , and North Carolina in support of their new CD released in March of 2003. The CD features their blend of all original Country-Rock music.
The duo consists of Duane Brown on lead vocals/ rhythm guitar, and Derek Brown on lead guitar/vocals. The two began performing together at an early age growing up in South Boston , VA , and have worked together in numerous settings from clubs, festivals, and radio and television. They have been heard on the John Boy and Billy Big Show performing their original song " She's Country" from their new release. The two are accomplished songwriters, and travel periodically to Nashville to perform for songwriter's nights in such establishments as the legendary Blue Bird Café. They have also opened shows for such notable country artist as T.Graham Brown and Exile.
In addition to their performances together, the two have a variety of work related experiences. Duane has performed in solo acoustic settings, and has sung the National Anthem for various events. His work in musical theatre began with his role as Tevye in Fiddler on the Roof, and he went on to perform in a variety of other musicals as well as dramatic work. He worked in radio as an announcer for several years, and had his own morning show. He brings all of these experiences and more to their live shows.
Derek has been performing on guitar since the early 1980's, and brings a wealth of musical knowledge to the duo. He studied jazz performance with Dr. Ira Wiggins at North Carolina Central University , and performed for jazz legends during his time there. He has also embraced traditional country music on guitar, learning the heritage of this music with the late Buddy Holt, an American music treasure. In addition, Derek has also performed in pit orchestras for musical theatre. He performs, and records all of the additional instruments for their live, full band sound. Their varied amount of work in music allows The Brown Brothers to tap into numerous experiences, and ensure a high quality show for their audience.
The Brown Brother's are delighted to be adding new fans after each performance. They will be expanding their touring schedule in 2004 to include more of the southeastern United States and continue to perform their music for their excited fans.
The Brown Brothers
1034 Cole Lane
Scottsburg , Va. 24589
Ph: 434-454-7778
www.thebrownbros.com
---
Tony T & The Midnight Movers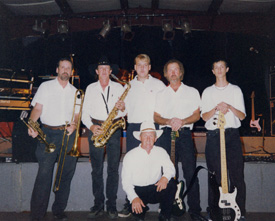 Tony T & The Midnight Movers have been a part of the Virginia - Carolina music scene for 33 years and now have 10 of their favorite tunes available on their first CD entitled 'On The Move'. To get your copy call F. A. Hendrick at 434-757-7436 or Imagine DAT Studios at 434-454-4123.
---
To have a photo of your band or favorite local band posted here, send it to:
imagine@gcronline.com